IMPROV 100 THURSDAYS- Intro to Improv – Build Confidence Fall 2023
September 21 @ 7:00 pm

-

9:30 pm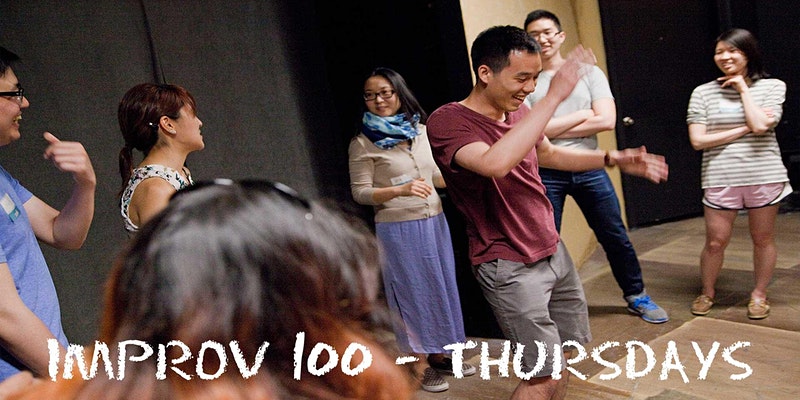 Whether you're someone who'd like to try improv for either professional or personal reasons or someone who just wants to unleash their creativity and laugh and play for a couple of hours a week – our classes are an excellent way to achieve your goals! Right from the start, you are on your feet exploring hilarious exercises and skill-driven games in an incredibly supportive and fun environment.
Our classes focus on team building and the concept that "If your teammate looks good, then you will look good." In our classes, an emphasis is placed on understanding and utilizing basic scene work skills, and most importantly, having fun. Lots of laughs and lots of stage time. All students begin at this level. It's a prerequisite to the other levels.
Under the guidance of our amazing faculty, you will learn to:·
Be a Better Listener· Conquer Fears

Spark Creativity

Meet New People/Make New Friends

Become a Better Problem Solver Gain Confidence· Fail Easier

Say Yes More in Your Life· Get Out of Your Comfort Zone

Become a Better Public Speaker· Discover More About Yourself

HAVE A BLAST
Dates: 8 Thursday classes 
Time: 7:00pm-9:30pm
Location: 5700 6th Ave S Suite 109 Seattle 98108 https://goo.gl/maps/LpCDFP2j5wvWnNYw5
Maximum Students: 16
Cost: 275.00 ($287.39 including fees)
Prerequisite: None
Ages: 18+
NOTE: Attendance at the first session of your course is mandatory as it sets the agenda for the entire quarter. If you think you will have to miss the first class, please consider registering for the next quarter.
"You are learning more about improv, more about yourself, making interesting friends, while you are learning and stretching in ways that will make life better both at work and socially, yet everyone is smiling so hard your face hurts … How many stars is that worth?"Jonathan A. 5 Stars 7/19/17
Our Georgetown Studios are located right behind the Georgetown Post Office. It is easily accessible via I-5 or Highway 99 or via bus lines 124, 106, 131, and 132. There is plenty of well lit, free parking as well, right near our front door! https://goo.gl/CMCRQp
**Cancellation policy: If you must cancel before the first class, we offer credit only towards a future class. We are unable to offer refunds. If you cancel after the first class we will not offer credit towards a future class. Again, we are unable to offer refunds.